Innovation for Realists. How to drive change in established organizations full of skeptical experts.
Pioneers and poets will tell you that "the electric light did not come from the continuous improvement of candles." But the truth is: Most business leaders are paid to protect the candle factory at all costs. How do we succeed at building "new" without risking failure "now"? Join Deloitte Chief Futurist Mike Bechtel for an "eyes to the skies, feet firmly on the ground" guide to arriving at your preferred tomorrow safely, profitably, and just a bit ahead of schedule.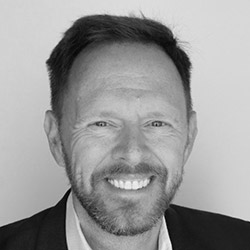 Mike Bechtel
Chief Futurist & Managing Director
Deloitte Consulting
Mike Bechtel is an inventor, investor, and professor. As Chief Futurist for Deloitte Consulting LLP, Mike illuminates what's now, what's new, and what's next in tech. His team's goal: Helping today's leaders arrive at their preferred tomorrows slightly ahead of schedule. He also serves as Professor of Corporate Innovation at the University of Notre Dame.
In 2013, Mike co-founded and served as Managing Director of Ringleader Ventures, an early-stage venture capital firm investing in early-stage startups that had (intentionally or not) built simple solutions to complex corporate challenges. Prior to Ringleader, Mike served as Chief Technology Officer at Start Early (then the Ounce of Prevention Fund), a not-for-profit committed to the idea that all children – particularly those born into poverty – have quality early childhood experiences in the crucial first five years of life. Mike began his career with Accenture Labs, where his team helped Fortune 500 clients put emerging technologies to profitable use. 12 years (and 12 U.S. patents) later, he was named the firm's first Global Innovation Director, where he was charged with creating a strategy, process, and culture to foster company-wide intrapreneurship.
Mike gives frequent keynote speeches to corporate, conference, and academic audiences, and his writing has been published in the Wall Street Journal, the World Economic Forum, Business Insider, and Inc. Magazine. Mike has also served as a director and advisor on several corporate, university, and not-for-profit boards.
Mike graduated from the University of Notre Dame in 1998 with a double major in anthropology & political science, and a minor in philosophy and economics. There, he met his wife Barb while studying together in London. They currently live in the Chicago area with their three children, Brady, Annabelle, and Bennett, and their rescue dogs Stanley & Millie.